W
TE QUOQUE

AD

CENACULUM FAMILIAE SANCTI HIERONYMI

W
APUD MONASTERIUM VISITATIONIS

Mobilis, Alabamæ
Septem dierum:  a die 2ª usque ad diem 8am
mensis Augusti anno Domini 2011

EX ANIMO INVITAMUS




HEBDOMADA TRANQUILLA ET JUCUNDA

ubi lingua Latina erit nobis sermo communis.  Lingua Latina est enim etiam hodie lingua Ecclesiæ viva;  clavis est quæ thesaurum spiritualem integri ævi Christiani aperit.  In hac hebdomada Latinæ loquendæ intelligendæ opportunitatem habebimus singularem, dum amorem Dei Fidemque Catholicam alimus.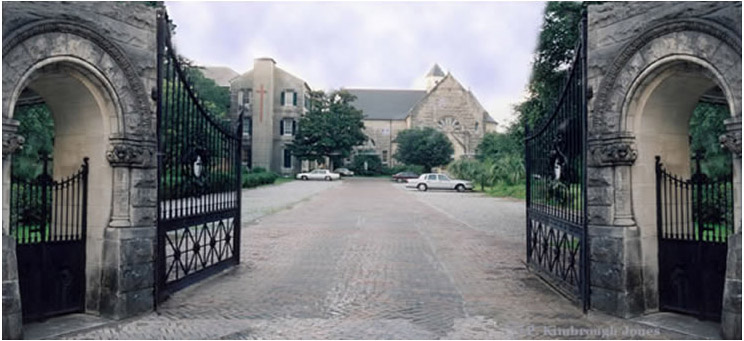 Monasterium Visitationis

apud pulchrum Monasterium Visitationis (2300 Spring Hill Avenue, Mobile, Alabama).  Ædificia hujus veteris monasterii (anno 1833 conditi) redolent tam monasteria Europæa quam Meridionem priscam Americanam.  Locus amœnis latisque hortis concluditur, ad contemplationem aptissimus.  Bonus tibi præbebitur victus - jentaculum, prandium, cena.  Cubicula grata et nitida sunt.  Temperatus aër per ædes bene diffunditur.  Pretium mansionis optimum est;  pretium comprehendit et domicilium et victum.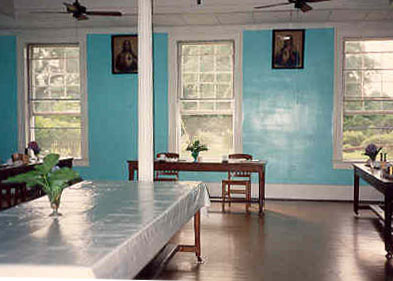 Refectorium Monasterii

Lingua Latina viva tibi difficilis non erit, nam nova procedimus via.  (Si primum ad Cenaculum venis, forsitan parvum lexicon tibi adjutorio erit.)  Veni sine metu errorum:  nullus inter nos censorius.  In hac sodalitate experieris linguam Latinam re vera vivam et nostro tempore prorsus idoneam esse.  Locutiones utiles ad sermonem quotidianum Latine serendum usu disces.  Colloquendo, auscultando, ridendo, liberabitur omnium loquela fietque consueta.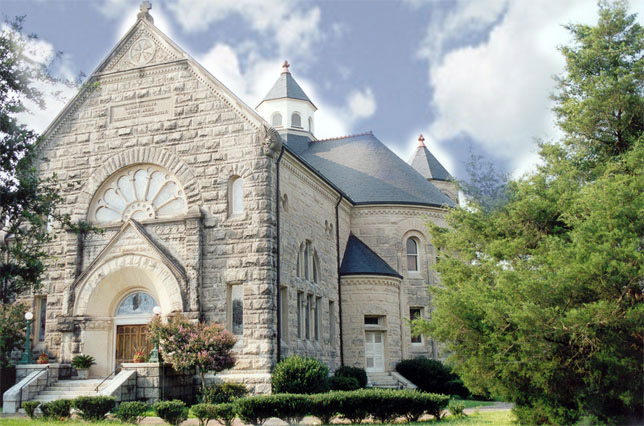 Capella Monasterii Visitationis

pro bono Sanctæ Matris Ecclesiæ, pro bono culturæ Catholicæ, pro bono proprio.
---
---
±     PROGRAMMA PRÆVIUM     ±

Celebrationes Liturgicæ:  Sacrosanctum Missæ Sacrificium;  Liturgia Horarum;  Adoratio Sanctissimi et Benedictio Eucharistica.
Salsæ allocutiones circa Rem Catholicam, quæ Fidem, orationem, Sacras Scripturas, historiam, Sanctos et Sanctas, Summos Pontifices, et alias res magni studii agant.
Lusiones jucundæ et jocosæ de lingua Latina viva præsertim pro tironibus, sed etiam pro omnibus qui facetiis delectantur.
Colloquia de meliore modo linguæ Latinæ discendæ docendæ loquendæ.
Imagines ope lucis aspiciendæ, ubi potissimum rebus ostensis facilius vivum sermonem Latinum intelleges.
Excursiuncula pedestris juxta ad magni consitoris villam ante Bellum Civile.

SUB AUSPICIIS FAMILIÆ SANCTI HIERONYMI, quæ a Patre Suitberto Siedl a S. Joanne a Cruce, O.C.D., anno 1989 condita est.
CONTRIBUTIO SOLVENDA (pro tota illa hebdomada complexive):
Pro sumptibus victus et domicilii:
U.S. $360.00 (cubiculo privato vel, si vis, cubiculo cum altera persona partiendo)
Impensæ tam modestæ ut adventus tui incitamentum sint!



Pecunia pro sumptibus victus et domicilii solvatur simul ac advenies.
SI INTERESSE VIS, mitte, quæsumus, nomen tuum et schedam inscriptionis ad secretarium Familiæ Sancti Hieronymi:

MR. J. G. HALISKY
Attorney-at-law
507 S. Prospect Avenue
Clearwater, Florida 33756
U.S.A.

FAX:  (727-461-4240)
INSCRIPTIO INTERRETIALIS
(i.e., e-mail):
  FSH@pngusa.net
QUO CITIUS mittetur EO MELIUS, et si fieri potest ante diem 2am, mensis Julii, 2011.Ut certior fias de itinere atque de accessu ad ædes, videas, quæsumus, alterum folium interretiale huic annexum.
W
WE CORDIALLY INVITE YOU

TO THE

CENACULUM FAMILIÆ SANCTI HIERONYMI

W
AT VISITATION MONASTERY

Mobile, Alabama
Seven days:  from the 2nd to the 8th
of August, 2011




A PEACEFUL AND JOYFUL WEEK

where Latin will be our common language.  Today Latin is still the living language of the Church, the key which opens the spiritual treasury of the entire Christian era.  During this week we will have a unique opportunity to speak and understand Latin better and to strengthen our love of God and our Catholic Faith.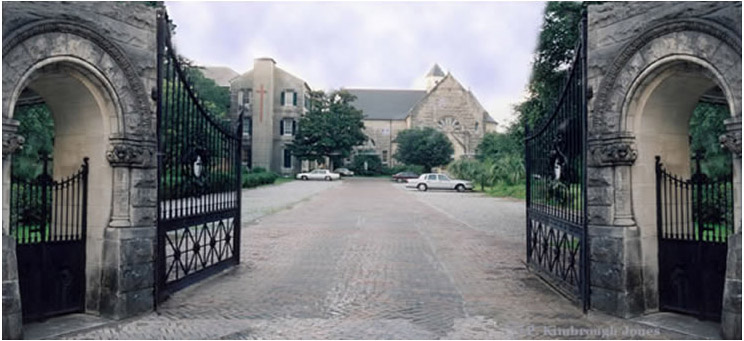 Visitation Monastery

at beautiful Visitation Monastery (2300 Spring Hill Avenue, Mobile, Alabama).  The buildings of this monastery (founded 1833) are modeled after both European monasteries and architecture of the early American South.  It is surrounded by broad, pleasant gardens ideal for contemplation.  There is delicious food — breakfast, lunch, and dinner.  The rooms are pleasant, clean and air-conditioned.  The cost of your stay is the best possible and includes room and board.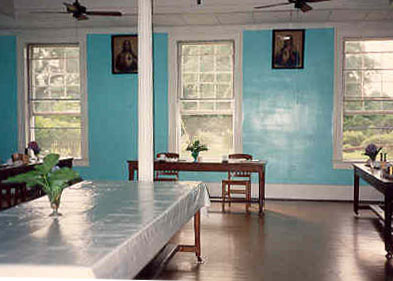 Dining Hall

Using the living Latin language will not be difficult because we go about it differently.  (If this is your first visit to a Cenaculum, a small dictionary might be helpful.)  You need have no fear of making errors.  There are no critics among us.  In the company of others you will experience Latin as a truly living language, completely suitable for the times in which we live.  With practice you will learn useful expressions for cultivating Latin conversation.  By speaking together, listening and laughing, the Latin we learned earlier will be liberated and transformed into a real means of communication.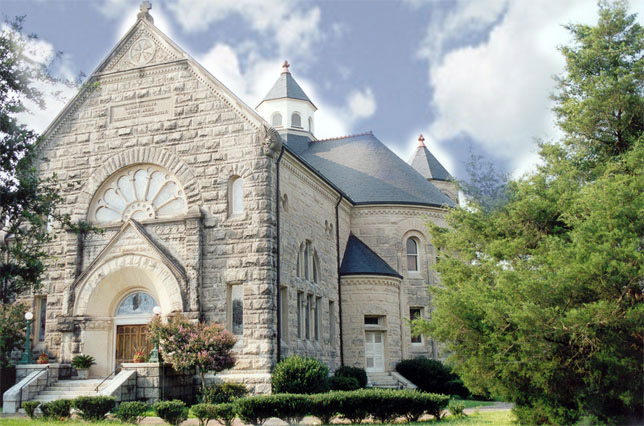 The Monastery Chapel

for the good of Holy Mother Church, for the good of Catholic Culture and for your own good.
---
---
±     PRELIMINARY PROGRAM     ±

Liturgical Celebrations:  Holy Sacrifice of the Mass;  Liturgy of the Hours;  Adoration of the Most Holy Eucharist and Eucharistic Benediction.
Fascinating talks on Catholicism dealing with Faith, prayer, Sacred Scripture, history, Saints, Popes, and other matters of great interest.
Pleasant and witty games about the living Latin language especially for newcomers, but also for everyone who likes fun.
Talks on the best method of learning, teaching and speaking Latin.
Slide shows, which make it easier to understand Latin using graphic displays.
Excursion to the mansion of a rich, pre-Civil-War plantation owner.

UNDER THE AUSPICES OF THE FAMILY OF SAINT JEROME, founded by Father Suitbert Siedl of St. John of the Cross, O.C.D., in 1989.
PRICE (for the entire week):
For room and board:
U.S. $360.00 (private cubicle or, if desired, a cubicle shared with one other person)
Prices this low make your participation a must!



Payment for room and board to be paid upon arrival.
TO ATTEND, please send your name and registration to the secretary of the Family of Saint Jerome:

MR. J. G. HALISKY
Attorney-at-law
507 S. Prospect Avenue
Clearwater, Florida 33756
U.S.A.

FAX:  (727-461-4240)
INTERNET ADDRESS
(i.e., e-mail):
  FSH@pngusa.net
THE SOONER SENT, THE BETTER, and if possible, before the 2nd of July, 2011.For more about the trip and the way to the monastery, please see the next web page.
->> >> >>
Ý
<< << <<-
---
-- Brennus Regan (Inscriptio electronica: Hieronym@Hieronymus.US)
Dies immutationis recentissimæ: die Mercurii, 2011 Februarii 2 @ 15:40